Description
Start your morning or transform your day with words of encouragement. Any time of the day, pick a card from the deck. You will feel uplifted and inspired, and the words will provide you with a sense of mental renewal.
You can also keep a card out during the day to remind yourself to stay focused on your best qualities and strengths. These are more than affirmations; these cards are personal self-empowerment statements. You have an opportunity now to take advantage of a sale price as Dr. J provides these cards for the very first time!!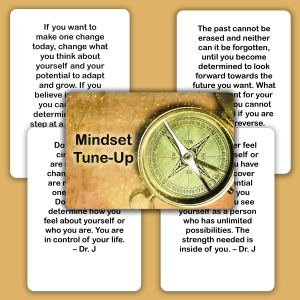 Dr. J has custom written these inspirational statements in a deck of 45 cards, each individually written to provide you with a mindset tune-up. These high-quality, glossy, 3 x 5 cards also come with a handy box for easy storage. Take advantage of the premiere sale and discover how these unique cards can renew your state of mind.